Outdoor Signs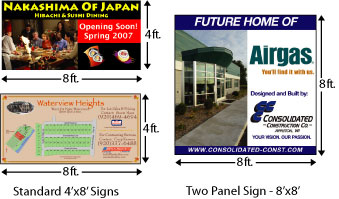 We make outdoor signs for construction sites, area developments, commercial/residential real estate and subdivisions!
You're no longer limited to just a few colors. Add a little ATTITUDE to your outdoor signs with FULL COLOR pictures and graphics. Standard signs are sized at 4'x8', but we can do an array of sizes. Signs can be printed on 1/2" thick wood (MDO), Metal (Dibond or Omegabond) or plastic (PVC or Coroplast). Use multiple 4'x8' sign panels to create a HUGE impact! Our method of printing directly to the board makes spreading one graphic over multiple boards a snap.
Full color 4'x8' signs printed on 1/2" thick wood start at $175.00!