Waterproof Blueprints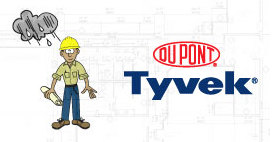 Finally! Tyvek for plans. Tyvek is tear resistant, water resistant, foldable, recyclable and class "A" flame/smoke rated.
This is the perfect option for your job site. Tyvek will replace the need for taping the edges of drawings, laminating or using plastic bags to protect your plan, thus saving you time and money!
You can still use pencil, pen and highligher marks on Tyvek to mark up your plans.